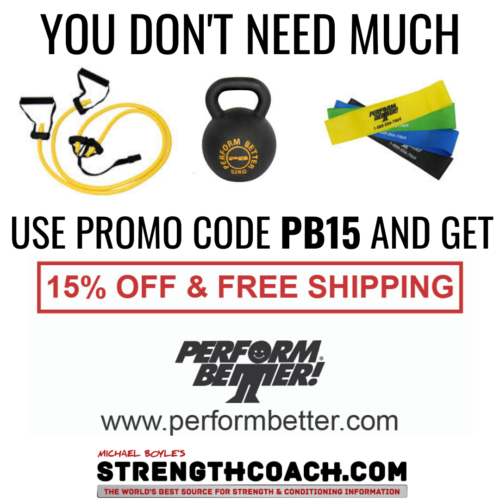 ---
Highlights of Special Episode 278.5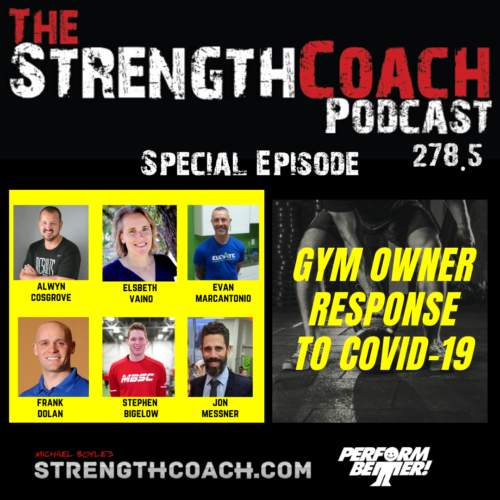 This was originally a Zoom call that I did for StrengthCoach.com. I received a lot of great feedback so I wanted to make it available to a larger audience and through a different format. You can still watch the video on StrengthCoach.com.
Gym owners from across the country (and one from Canada) got together to discuss their COVID-19 Response.
I asked:
1- What are you doing for training (pdfs, zoom, apps, FB live, etc.)
2- What has been your members response as far as membership continuation is concerned?
3- What is the compliance so far? Are clients engaged?
4- How are you engaging with staff?
5- What is silver lining with all of this?
Thanks to:
Elsbeth Vaino- Custom Strength, Ottawa, Canada
Frank Dolan- Sports & Fitness Performance, Islip, NY
Jon Messner- Messner Strength Training, Brielle, NJ
Stephen Bigelow- Mike Boyle Strength & Conditioning, Woburn, MA
Evan Marcantonio- Elevate Strength & Performance, Worcester, MA
Alwyn Cosgrove- Results Fitness, Santa Clarita, CA
---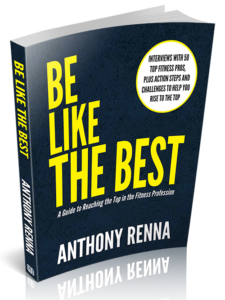 About "Be Like the Best"
During the last 12 years of interviewing many strength coaches, fitness professionals, physical therapists and gym owners, Anthony Renna has accumulated a rolodex of "The Best of the Best" in the fitness profession.
This book is a collection of interviews with some of those top successes. Through his conversations, you'll learn how they evolved in their careers, what habits and traits they believe made them successful, their goal setting processes, how they get through the hard times everyone faces and even some books to read and people they recommend following.
After each interview, you'll find a challenge or action step based on an important takeaway from each interview. These are designed to encourage you to build the habits to Be Like the Best on your journey to dominating in this profession.
As a fitness professional, you're already making an impact in your clients, athletes and patients. This book will help you stand out in a crowded field and help guide you on the road to success.
Go to BeLiketheBest.com for more info
---
Thanks for Listening!