Highlights of Episode 257.5

Special episode with Mike Boyle discussing his workshop Functional Strength Coach 7.
Functional Strength Coach 7 is the latest thoughts and changes that Mike has made to his program based on what he has implemented with his own clients and what his staff uses at his facility, Mike Boyle Strength & Conditioning.
We talked all about those changes in this episode.
I was there and I can tell you it was a great day of learning.
One of the best parts about the day was the amount of great coaches that were in attendance to contribute to the conversation including
Jeff Oliver (Holy Cross),
Kevin Carr (MBSC & Movement As Medicine),
Dan McGinley (MBSC),
Ed Lippie (AC Roma),
Mike Vaughn (Merrimack),
Joe Van Allen (NE Patriots),
Devan McConnell (U Mass Lowell) & more
Starting Monday, June 24, Functional Strength Coach 7 is 40% off until Friday, June 28. Grab a copy now before the discount ends.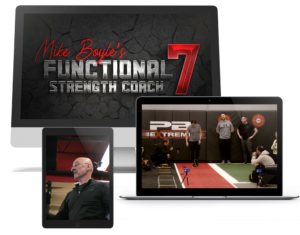 ---